NZone Enterprises Ltd provides a range of security services delivered by our professional and specialist trained team members. Our company is one of the leading security services companies in NZ and we have over 10 years of demonstrable experience in the industry. Our head office is based in Auckland, however we deliver our services across the length and breath of NZ.
Our core services include but are not limited to, Door Supervision, Static Guarding, Mobile Patrolling, Retail security services, VIP escort, Close Protection Services, Events and Crowd Management, and Concierge/Reception.
Operating in the commercial, residential, retail outlets, industrial, private and public sectors, NZone Enterprises Ltd has achieved much success through building on our policy of integrity, credibility over the years with our business partners and clients.
NZone Enterprises Ltd are always looking for dependable candidates for our many and varied security jobs. Successful candidates will normally work on call between 10 and 60 hours per week ensuring the security and wellbeing of premises and individuals on location at events and at customer premises. As an accomplished Security Officer, with remarkable client focus, you will perform a range of duties including:
Managing access to buildings and car-parks – for employees, visitors and contractors.
Patrolling buildings, car parks and grounds to deter and detect problems.
Responding to customer requests and queries.
Checking and validating ID and passes with a professional and friendly approach.
De-activating and activating alarms, and unlocking and locking buildings, rooms, external barriers and gates to ensure that no unauthorised personnel or hazards are on site.
Identifying and reporting Health & Safety issues and carrying out first aid if necessary.
Maintaining records including incident reports using computer and paper based systems.
Hours of work may vary but shifts are normally 8-12 hours duration covering days and nights, Monday – Sunday. However, as part of a small team you will need to be reliable and flexible to support your colleagues.
Applicants must have excellent communication skills, both written and verbal. Previous security experience is preferred but not compulsory as we will provide Security and First Aid training if required. To succeed in this role you will also need:
To be at least 18 years old.
To be a NZ citizen or legally allowed to work in NZ.
Strong customer service skills and experience.
Excellent communication and interpersonal skills.
The ability to remain calm and professional under pressure.
Experience in a customer-facing role, ideally in security.
Good technology and administration skills.
Ten years' reviewable background history and references plus two guarantors who are family members.
To pass a criminal records check from the NZ Police database to the desired standard.
Applicants may be required to pass a medical examination testing the applicant's ability to perform essential job functions of a security officer.  This may include screening for the use of performance impairing drugs.
Full training, uniform and health and safety equipment are provided.
Interested in working with the team at NZone? Send your expression of interest via our contact page.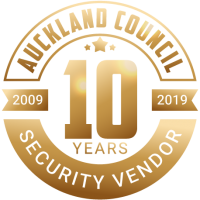 Keen to join the NZone team? Contact Us Now!
"We chose NZone as our security supplier down to the fact you won't see a more attentive switched on security team. Having worked in the live industry for decades and watching cut price big security companies rise up muscle their way into the event space. I chose to contract on actual skills not on a sales pitch. You won't see their security people cell phone in hand oblivious to their surroundings or wandering from their position. You get  world class top security for your crowds, your staff and yourself. I could have chosen any company – I chose Grant and his team and I've never looked back."

Event Organiser & Production Manager - Auckland Council / Music in Parks

"Grant and his team have been looking after my events for Shipwrecked Music and Arts Festival the last two years since 2018. NZOne also looks after my warehouse event space since 2018 and I'm completely happy with there respect for staff and patrons. Their ability to keep a situation calm and cool is second to none. I value Grant and his team and would highly recommend any event or company needing a professional security team."

Silent Studios Ltd

"My business employs NZone Enterprises Ltd and Grant because of the personal skills displayed from the top down. I witnessed Grant at a licenced premises years ago dealing with a very difficult patron, it was handled with minimal issue and solved amicably. The staff follow this ideal and have done so on all our events. That is why we always employ the professional, caring and adaptable services of NZone."

Event Horizons

"NZone Security have been great to work with on my events. Grant is professional and friendly, with good insight around security needs and roles at an event. His team come to site with always with a friendly manner and attitude, they are also happy to jump in and help out where and when needed if a situation arises. I appreciate their more proactive approach to event security and handling of the public rather than being reactive and confrontational. I never have to worry when I have the NZone team onsite."

Senior Event Organiser - Auckland Council